A tribute to the care of Kenneth Johnson
Written by her Ruth Ann Johnson and family
---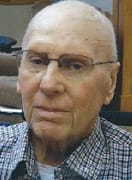 Hospice was very helpful in every aspect of Ken's care. Kay Day, RN, and Shelly Jones, RN, were very understanding as they answered all our questions. They gave us suggestions about helping us keep Ken comfortable at home, at Crossing Rivers Health and at Prairie Maison.
We never felt we were pushed into anything that we didn't approve of, and we were always informed of any changes in Ken's care.
Ken always enjoyed his visits with the Hospice staff when they stopped to see how he was feeling. He especially appreciated Deacon Pat Malanaphy's visits and talking about their common interests.
Many of the Hospice volunteers were acquaintances from Ken's working days, and Ken appreciated their visits as they stopped by.
We are so fortunate to have Crossing Rivers Health in our community. It is a wonderful, up-to-date facility with an excellent staff. Thank you to all who provided excellent care for Ken.
---
Through a donation to the Crossing Rivers Health Foundation, you can make a difference in the lives of friends, neighbors, and the ones you love.