Dorothy's Story
Written by Noël Ferguson, May 9, 2017
---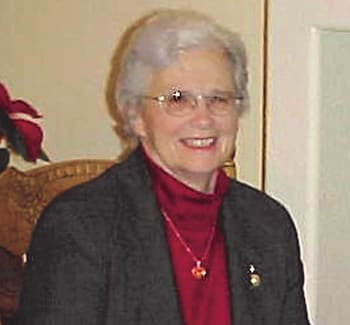 My mother, Dorothy Ferguson, suffered a hip fracture in October, 2013. That led to a program of physical therapy, which was coordinated by the staff at Prairie du Chien Memorial Hospital, now Crossing Rivers Health.
Physical Therapist Nancy Key suggested that Mom might be a good candidate for the Lee Silverman Voice Treatment, which is designed to restore some of the voice lost to Parkinson's or in her case, Lewy Body Disease.
Nancy referred Mom to Speech Therapist Juli Smith. My mother loved to learn and in fact, she attended first grade twice when she was a little girl. First, with her best friend who was a year older, and then again when it was actually time for her to go! So, when Juli arrived at my mother's home ready to start the 16-session LSVT program, Mom was ready and very eager to learn and in fact, she referred to Juli as her "teacher."
A schedule was set up for the 16 sessions and they went to work. Through some intrepid winter driving, Juli would arrive at my mother's home, where Mom would be waiting, so pleased to see her.
Several of Juli's lessons required Mom to speak on a subject of her choice. Her rich memories introduced Juli and me, too, to some interesting snapshots from the past, one so vivid I wrote down her exact words and sent it to friends and relatives at Christmas time. It was the story of Christmas Day at her grandparents' home, when she was a little girl, the foods that were served, the conversation, the pleasure of being with her aunts, uncles and cousins, the memories of homemade candy treats. This was a story I had never heard. Our family treasures this story and many others that Juli encouraged my mom to remember.
Juli's impact on the quality of my mother's life is beyond measure. Mom's determination and Juli's expectations were the perfect combination for a lady who needed the physical and mental challenge and who fought so hard to retain her brilliance and wit. She would practice and practice and was always so proud to accomplish Juli's assignments.
Mom died on Feb. 4, 2016, almost seven years to the day after being diagnosed with Lewy Body Disease. It was not an easy seven years, but there were good moments, and those came about with the help of some truly dedicated and caring people.
Our family is thankful that Mom was able to experience success with the LSVT program and in the process leave some memories with us that we would not have had without Juli's encouragement. Juli Smith will always have a special place in our hearts.
---
Through a donation to the Crossing Rivers Health Foundation, you can make a difference in the lives of friends, neighbors, and the ones you love.