Joan's Story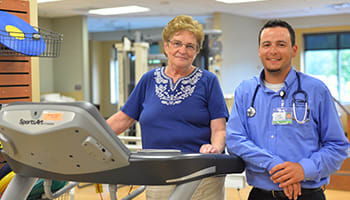 Ferryville resident Joan Kohlhaas was a heavy smoker for years prior to quitting in 1998.
"My lung function was not where it should have been and I wanted to see my grandchildren grow up."
Quitting smoking
Quitting was not easy, but Joan knew she had to change her habits. One day, she ripped up her cigarettes, threw away her ashtrays, and cleaned out her car.
"It was hard. The first night was really hard. So many people challenged me. I showed them and I did it – I quit smoking."
COPD diagnosis
As she got older, she frequently had bronchitis and chest colds. In 2013, she was diagnosed with Chronic Obstructive Pulmonary Disease (COPD). Her pulmonary doctor referred her to the Pulmonary Rehab program at Crossing Rivers Health.
Learn more about Pulmonary Rehab
Pulmonary rehab
"At first, it was hard. I could only exercise for 10 – 15 minutes at a time, but I gradually was able to increase that amount of time."
Joan has chosen to remain in the program because it has helped her stay active and focused.
"I decided to continue because it makes me feel better about myself, my health is better, and my mental health is even better. It's good socially as well and I have met a lot of nice people."
Joan's advice to others:
"Stop smoking! Give exercise a try. I was nervous when I started, but the staff made me feel comfortable and they never ask me to do more than I feel comfortable doing. My COPD will never get better, but it hasn't gotten worse and I can thank this program for that."
---
Through a donation to the Crossing Rivers Health Foundation, you can make a difference in the lives of friends, neighbors, and the ones you love.