Kala and Kiara's Story
Written by Kala Robinson on July 18, 2017
---
I had always imagined my first pregnancy/birth as nothing but joy.
Dr. Mathew Olson was my doctor from the very beginning of my pregnancy. He was always so kind and compassionate at every doctor appointment. He really let me know that he was there for me and my unborn child.
The pregnancy
I had a very normal pregnancy. Late October, I started experiencing complications at only 21 weeks. Dr. Olson and the obstetrics team at Crossing Rivers Health made sure I understood the seriousness of the situation. They explained that they would do anything in their power to get me through this pregnancy. You could see in their eyes the absolute kindness they had for their unborn patient.
As a young and first time mom, I was nothing less than terrified. I was sent home and put on bed rest for the remainder of my pregnancy.
November 15, 2016
This was the scariest day of my life and it was the best day of my life.
I had woken up at 6:00 a.m. in extreme pain. I could not walk. I could not talk. My mother, whom thankfully lives a block away, arrived in a hurry and took me straight to the emergency room at Crossing Rivers Health.
I arrived at the emergency room at 8:00 a.m. and was taken to the obstetrics department. As the obstetrics staff examined me and my unborn daughter, my water broke. They were calm. They were together. Not once did they panic.
They explained to me what was happening and what was about to happen. They explained that I was about to give birth to my daughter. I was terrified. I was 24 weeks and 6 days pregnant. I had just found out the gender of my child. The only thing that ran through my mind was that my daughters father wouldn't be able to make it.
The entire team that was with me that day will never know how much I appreciate them. They all remained so calm. They all were so loving, so kind.
Kiara, the fighter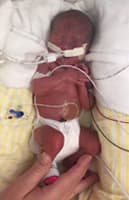 At 8:40 a.m. on Thursday, November 15, 2016, I gave birth to my daughter at 2 lbs .05 oz. and 13 inches long.
She was a fighter. I had never encountered anything as strong as my little girl.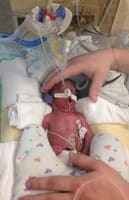 The amazing team at Crossing Rivers Health did everything possible to ensure the safety of my daughter. They spent approximately one hour manually pumping breaths into my daughter, waiting for the arrival of the Neonatal Intensive Care Unit (NICU).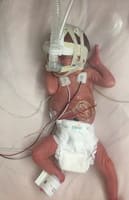 After my daughter was taken to La Crosse, I had to stay to ensure my safety. The staff made sure I was as comfortable as I could possibly be. Dr. Olson sat with me for some time and not only made sure I was medically okay, but emotionally okay as well.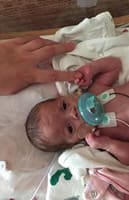 They explained that they were confident that Kiara was a strong girl. We spent 3 1/2 months in the LaCrosse NICU with my daughter. She encountered chronic lung disease, RSV, and PDA surgery.
As I sit here and write this story, I am holding my beautiful, healthy 8 month old daughter and I truly believe that without the confidence and togetherness of the staff at Crossing Rivers Health, my daughter would not be here.
I could never thank all the people that were there in that room with me that day enough.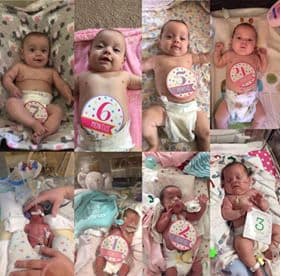 ---
Through a donation to the Crossing Rivers Health Foundation, you can make a difference in the lives of friends, neighbors, and the ones you love.