Kathy's Story
Occupational Therapy Help Me Regain Independence
In December of 2016, Prairie du Chien resident and retired Prairie du Chien school teacher, Kathy Pettit, fell down the steps on her patio and broke her arm in three places.
Throughout the next month, three separate surgeries were performed and occupational therapy was recommended to help regain range of motion and strength in her left arm.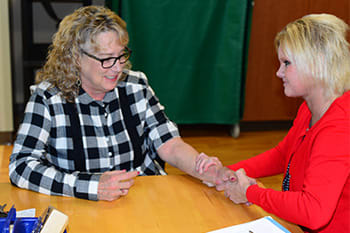 The goal of occupational therapy is to help people achieve independence with daily life activities, such as feeding, bathing, dressing, cooking, playing, and working.
"I couldn't make a fist or bend my thumb. I couldn't drive or put my seatbelt on," recalled Kathy. "I couldn't wash my hair or even touch my head. I had to have my friends and family make my bed. I stopped bowling and wouldn't even watch the other ladies bowl. I was dependent on everybody, and I didn't like that. It wasn't like me."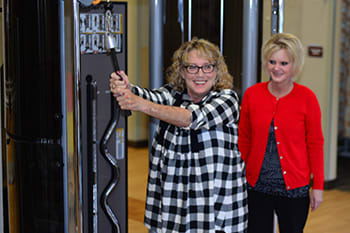 Kathy worked with the Occupational Therapy department at Crossing Rivers Health for 11 weeks on exercises including active range of motion of the hand, wrist and elbow; elbow extension with blue therabands for strengthening, and theraputty for hand and grip strengthening. The therapists also shared activities utilizing common household items that Kathy could perform in her own home.
Kathy commented, "I looked forward to rehab because I knew I was going to make progress. They made me more confident and comfortable. It was fantastic, and I'm almost back to normal."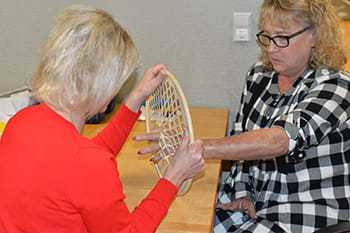 Kathy is bowling again and is even looking forward to golfing this summer.
"It's been a miracle. I love the department and I have to thank them. I am an active and social person. The Occupational Therapy staff at Crossing Rivers Health helped me get my independence back," Kathy said.
---
Through a donation to the Crossing Rivers Health Foundation, you can make a difference in the lives of friends, neighbors, and the ones you love.