The Blessing of Time - Linda's Story
"One of my granddaughter's favorite sayings is 'You get what you get and you don't throw a fit'. That was the first thing I thought of when the doctor told me I had cancer," said Linda Knight of McGregor, Iowa. "At that moment, I realized this is the way life is going to be from now on. I can do what I can to handle it, but I can't control it."
Linda was originally diagnosed with cancer in 2017. Her doctors didn't use the word remission, but they believed the cancer was backing off and Linda was getting better.
In May of 2019, cancer challenged Linda again. This time, according to Linda, it hit "pretty hard and heavy" causing her to spend an extensive amount of time in the hospital.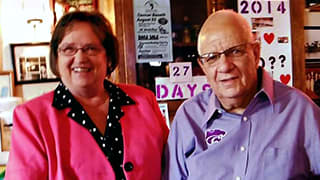 "Cancer has a mind of its own and it was doing its thing. My husband, Bart, and I refer to our household as four members – Linda, Bart, Willie (their dog), and Cancer. All four of us try to take care of each other."
Evaluating options and choosing Hospice
Linda and Bart weren't sure which direction to go and found themselves evaluating their options. "I needed suggestions, as well as the ability to ask questions rather than being told what to do. Choosing Hospice was basically adjusting and deciding that they were going to take the lead and guide us."
Linda's goal at that time was to go home – and she will admit, she was adamant about it. The Hospice team coordinated efforts with the hospital to bring Linda home.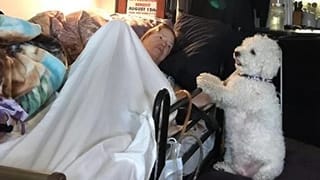 "At that point in my illness, tasks that would normally be simple were very difficult, such as washing my hair. Danielle, the Hospice Aide, walked in very cheerfully and said, 'What do you want done first?' Within half an hour, my hair was washed and brushed; I was just thrilled. It was an unbelievable feeling."
When Brittney Miller, Hospice Social Worker, first met Linda, she quickly realized that Linda was fearful for her children. Brittney shares, "It was very important to Linda that she was able to talk to them." Brittney provided support to connect Linda with all five of her children and her many grandchildren.
"Hospice has given me time. I am unable to travel now, which is so new to me. I have a child that we weren't sure would make it here. With Brittney's help, we were able to connect through Skype, which I would not have had the ability to do without her guidance."
Fortunately, Linda was able to see all of her children and grandchildren, in person. "I can't say that we've put an ending to it, but we've started our closure. We can now use words that six months ago would have scared me half to death. But, we can use them openly. We're getting ready for what we know is coming."
Providing support for the whole family
Linda feels relief knowing that support is available for her family, as well. "This is not just a one-person battle; it impacts the entire family. I know they will have adjustments to make once I'm not here, but the Hospice team will provide support for my family and that's a huge relief. We all need a support system and not everyone grieves the same way. If they want it and if they need it, the Hospice team is just a phone call away."
Assistance with documenting decisions and wishes
Linda believes she has been blessed with advanced notice, allowing her time to make important decisions and document her wishes.
"I can't comprehend somebody that is thrown into death without notice. My heart goes out to those people. I was fortunate to have time and that time will make all of our lives easier. Our will is done, my advanced directives are complete, my wants and needs are known, and my providers and family members will not have to make those difficult decisions. The paperwork is complete because of the direction and assistance we have received from the Hospice team."
Providing comfort and peace of mind, no matter the time of day
Comfort is a primary goal of Crossing Rivers Health Hospice, whatever that may mean to the patient. "When they said I was coming home, they said it was going to be for a very short time. That was 80 days ago. The level of discomfort has been so manageable that it has shocked me. I am not in the discomfort that I thought I would be. The Hospice team has helped me feel comfortable emotionally, physically, and mentally."
Linda and Bart appreciate that Hospice has provided them with peace of mind, no matter what time of day they may need it. "The communication is admirable. The Hospice team is on-call all of the time, even at 3:00 a.m. Questions are answered within minutes. Volunteers call each week. The team makes sure we have all the supplies we need. All of that has been a huge help."
Hospice is about how you live
Linda is embraced by members of the community who express their admiration of her strong will and positivity through anonymous letters, phone calls, and visits. Yet, Linda remains modest and feels she has been lucky and fortunate. Crossing Rivers Health Hospice is about how you live. Linda Knight is living her life embracing the possibilities that lie ahead while spreading courage and comfort, each and every day.
Contact Crossing Rivers Health Hospice