Ron's Story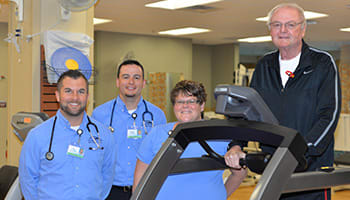 Ron Jones was born and raised in McGregor, Iowa. He married his high school sweetheart, Mary, 49 years ago and proudly served in Vietnam.
Ron was a smoker. In 2002, he retired and found himself smoking up to two packs a day.
Type 2 diabetes and cellulitis
Ron was also a Type 2 diabetic and in 2005, he developed cellulitis in his left ankle followed by excruciating pain in his right calf.
"Between the cellulitis and the pain in my calf, it was the worse pain I had ever experienced in my life."
The cellulitis caused him to be laid up for two months and his leg pain did not improve.
Peripheral artery disease (PAD)
"I went to my doctor and they did a pulse test to check my blood flow. Because of my diabetes and smoking, my circulation was not great. My doctor diagnosed me with peripheral artery disease (PAD) and said she wanted to see me again in six months. She told me that if I was still smoking in six months, I should just cancel my appointment. I took that statement very seriously."
Peripheral artery disease (PAD) is a narrowing of the peripheral arteries to the legs, stomach, arms, and head - most commonly in the arteries of the legs. Smoking and diabetes are added risk factors for PAD, along with high blood pressure and high cholesterol.
"I was a smoker for 35 years. After hearing that from my doctor, I tried to quit cold turkey and it didn't work. Then, I switched to cigars and that didn't work either. So, I attended a smoking cessation program in town. I quit smoking and made it through the whole program. I have to say – I was incredibly proud of myself. It was a huge achievement."
Prostate cancer followed by coronary artery disease
Ron's health issues mounted when he learned that he had been diagnosed with prostate cancer and then with coronary artery disease.
"I wanted to go back to smoking real bad, but I didn't. If I did, I probably would be dead by now."
With all of these health conditions, Ron's PAD was not improving.
"I learned that I had three blocked arteries and I was already on blood thinners, so I couldn't have a procedure to put in stents in my heart. I ended up having minimally invasive heart surgery for my blocked arteries."
Supervised exercise through Cardiac Rehab
After his surgery, Ron turned to the Crossing Rivers Health Cardiac Rehab program and began supervised exercise as a part of his recovery.
After completing 12 weeks of cardiac rehab, he continued his supervised exercise in the Healthy Hearts program.
"I continued through the Healthy Hearts program because going to the gym was intimidating. With all of my health issues, I also knew that the Cardiac Rehab staff would be there for support if I needed it."
During the cardiac rehab program, Ron realized that his PAD symptoms were improving. Because of the staff's knowledge in exercise programming for patients with PAD, the Cardiac Rehab team was able to help reduce Ron's PAD symptoms through a consistent walking program.
Late last year, Ron had to take a break from the program to undergo hyperbaric oxygen treatments due to side effects from his prostate cancer treatment.
"After going through 40 hyperbaric oxygen treatments, I came back to Healthy Hearts with a smile on my face. It was like I was home."
Because of Ron's commitment to a regular exercise program in Healthy Hearts, he was able to re-start his exercise program without limiting PAD symptoms. Starting back slowly under is physician's direction, he was able to quickly get back to where he was prior to his treatments.
Feeling better than ever
After everything Ron has been through, he is feeling great and is able to do activities he didn't think he ever would.
"I traveled to California to see my daughter and am able to spend time with my grandkids doing things I would not have been able to do. Before I would walk two blocks and have tears in my eyes, now I can mow my own lawn, I can take the stairs, and I can get the boat out and go fishing. My quality of life went from 10% to 90%. Before, I lived in my recliner and I would have died in that recliner. Now, I am energized and enjoying life!"
Ron's advice
Ron's advice to others suffering from PAD, leg pain, or cardiac-related health issues:
"When you have health issues interfering with your quality of life, you have to do something. If exercise will help you, it's better and cheaper than any medication. When you're lucky enough to have a chance to make a change, don't take it for granted. The Cardiac Rehab program at Crossing Rivers Health is the best program there is. I wouldn't be where I'm at today without them. It's my home away from home."
---
Through a donation to the Crossing Rivers Health Foundation, you can make a difference in the lives of friends, neighbors, and the ones you love.