Mental Health and COVID-19
If you or your family members are feeling nervous or anxious about the coronavirus pandemic, here is some advice that may give all of you some comfort.
We all want to keep up to date, but the need to check and read the latest updates can become compulsive, feeding anxiety. Try having a news detox, or allocating yourself a time limit for reading or watching the news. Get your news from sources such as the Center for Disease Control (CDC) or the World Health Organization (WHO). If you're really worried about missing something crucial, you can always tell friends and family to contact you in the event of an emergency situation in order to keep you informed.
While there is a lot of uncertainty at this point, we do know that there are things that we can do like washing our hands, limiting contact with others, and avoiding travel if possible. We can also look out for others by calling neighbors and friends and checking in with them. While we do want people to avoid large groups, we are not alone in this so reach out via technology to maintain these healthy relationships.
Dr. Google is not, and never will be, your friend. Nor will message-boards and forums. Try to remember that people visit these places when they have reason to be concerned. Once you start understanding it's a skewed lens, you'll be better able to put things in perspective.
This is a cognitive behavioral therapy exercise which involves giving a persistent thought the courtroom treatment, by confronting it with a rational counter-statement. For example, if your persistent thought is something like, "Everyone I love will die from this virus," you can counter it with factual statements such as, "Actually, most people who get COVID-19 are likely to make a full recovery, and that's assuming mom, dad, and my little sister will even catch it at all." As my mother always says: "Just because you think something, doesn't make it true."
Even if it's just jumping jacks, pushups, sit-ups or walking in place, exercise will help get the adrenaline out of your system and channel the panic elsewhere.
Deep breathing, progressive muscle relaxation, mindfulness and mediation, yoga, and grounding exercises utilizing our five senses can help bring reduce your anxiety and help you stay more present in the moment.
Continue to do your daily chores, self-care, exercise, eat healthy and relax. If you can go to work, do so. If you are working from home, give yourself breaks throughout the day to help you stay on task better. If you are not working and the kids are home, set up a schedule with them that includes homework as needed, breaks, exercise, and fun.
Give yourself half an hour to worry about this to your heart's content, and then you have to go and do something else.
Anything that will give you a little boost can help. It doesn't need to involve spending money: you can also cook something nice, have a hot bath, or listen to a song you love.
When you are in it, anxiety always feels as though it will never end, but it will. It's hard to remember this, but do try. While we will all experience anxiety during this period, the more we can be aware of this and utilize these effective coping skills, the healthier we will be. Remember, be kind to yourself.
Mental Health and COVID-19 Resources
Trained professional are available 24/7 to help with crisis and resources
National Suicide Prevention Lifeline
1-800-273-TALK (8255)
24/7, free and confidential support for people in distress, prevention and crisis resources for you or your loved one, and the practices for professionals
Text "HOPELINE" to 741741
Serves anyone, in any type of crisis, providing access to free, 24/7 support and information through text messaging.
Disaster Distress Helpline
Call 1-800-985-5990 or text TalkWithUs to 66746.
The Disaster Distress Helpline (DDH) provides crisis counseling and support for anyone in the U.S. experiencing distress or other behavioral health concerns related to any natural or human-caused disaster, including public health emergencies.
Crisis Text Line
Text MHA to 741741 and you'll be connected to a trained Crisis Counselor. Crisis Text Line provides free, text-based support 24/7.
The Trevor Project
Call 1-866-488-7386 or text START to 678678.
A national 24-hour, toll-free confidential suicide hotline for LGBTQ youth.
Dial 2-1-1
If you need assistance finding food, paying for housing bills, accessing free childcare, or other essential services, visit 211.org or dial 211 to speak to someone who can help. Run by the United Way.
National Domestic Violence Hotline
For any victims and survivors who need support, call 1-800-799-7233 or 1-800-799-7233 for TTY, or if you're unable to speak safely, you can log onto thehotline.org or text LOVEIS to 22522.
Apps to help you cultivate a mindfulness lifestyle
Stop, breathe and think
A friendly app to guide people through meditations for mindfulness & compassion. Download today on IOS, Android or Web. For Kids and Adults
ColorTherapy.app
Color Therapy is an app for everyday people, from all walks of life, to de-stress and unwind through a social coloring experience. The in-app community benefits from friendly, unconditional support when voicing their worries, anxiety, or mental health battles, all while creating beautiful artworks to share with the world.
Insight Timer
Join millions learning to meditate on Insight Timer to help calm the mind, reduce anxiety, manage stress, sleep deeply and improve happiness. This app is available only on the App Store for iPhone, iPad, and Apple Watch.
Calm
Calm is a leading app for meditation and sleep. Join the millions experiencing lower stress, less anxiety, and more restful sleep with our guided meditations
Headspace
Learn the life-changing skills of meditation in just a few minutes a day with Headspace. Find hundreds of sessions on physical health, personal growth, and stress
Simple Habit Inc.
Simple Habit is a 5-minute meditation app designed to help busy people stress less, achieve more, and live better.
Shine
A mindfulness and meditation app that offers a series of motivations, daily texts, audio clips, and longer-term projects, all of which focus on self-reflection yet keep things satisfyingly upbeat.
Crossing Rivers Health Behavioral Health provides behavioral and mental health services to adults.
Skilled providers and a Registered Nurse Case Manager provide assessment and medication management. They collaborate with community resources to provide behavioral health services.
Services address many behavioral and mental health concerns including, but not limited to:
Addiction counseling
Anxiety
Attention-deficit/hyperactivity disorder
Behavior issues
Bipolar
Conduct disorders
Depression
Grief and loss
Impulse control
Personality disorders
Psychosis and trauma-related disorders
It takes a very strong person to seek help. Making an appointment is a huge sign of strength.
Telebehavioral Health Services
Some Crossing Rivers Health Behavioral Health services utilize telehealth, or video equipment and online technology to conduct a live consultation with a remote specialty physician. Seeing a provider, via telehealth, is a convenience for patients, reducing time and cost spent traveling. It also offers more options to schedule an appointment with a specialist at your local clinic. Most importantly, patients receive timely, quality care that is equivalent to a face-to-face consultation with a physician.
---
Crossing Rivers Health Behavioral Health providers
Lacie Anthony, LPC
Licensed Professional Counselor
Lacie provides face-to-face behavioral health services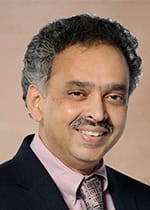 V. Chowdary Jampala, MD
Board-Certified Psychiatrist
Dr. Chowdary provides behavioral health services via telehealth
Request a Behavioral Health appointment