From Shelby Moose, Crossing Rivers Health Registered Dietitian
---
Happy Eat A Peach Day! If you're looking for the perfect snack or something sweet to accompany your meal, today is the perfect day to eat a peach.
National Eat a Peach Day is observed in August as that is peak harvest season for the fruit. Peaches are a characteristically fuzzy fruit. They are native to northwest China. They are a member of the stone fruit family, having one large middle seed, as do cherries, apricots, plums, and nectarines. The inner flesh of a peach can range in color from white to yellow or orange.
There are two different varieties of peaches: freestone and clingstone, depending on whether the flesh sticks to the inner seed or easily comes apart.

Benefits of peaches
This sweet summer fruit not only tastes amazing, but it's also a nutritional powerhouse. In just 60 calories, a medium peach packs in more than 20 different nutrients, including fiber, vitamins A, C, E, potassium, and zinc. They're also naturally free of fat, sodium, gluten, and trans fats.
Choosing the perfect peach
To ensure you bite into a juicy, sweet peach, look for these qualities when selecting peaches:
An even background color of golden yellow for yellow peaches, and creamy yellow for white flesh peaches. Note that the red blush characteristic of some peaches does not indicate ripeness.
A slight give to the flesh-neither rock-hard nor mushy.
Avoid fruit with green around the stem (they aren't fully ripe) or that have shriveled skin (they're old).
Most importantly, find fruit that smells how you hope it will taste.
Peaches bruise easily, so don't use your fingertips to check for firmness. Instead, hold the peach in your whole hand.
Tips on storing peaches
Store peaches on the counter at room temperature until they are the ripeness you prefer.
To quicken the ripening process, place peaches in a sealed bag
When ripe, peaches should be stored in the refrigerator where they will keep for up to five days.
Sliced or chopped peaches will discolor; toss with lemon juice to prevent excessive browning.
Cooking peaches
Make summer even sweeter with peaches. Peaches are great snacks, but can also be a featured ingredient in many dishes, from appetizers to desserts.
Peaches are an ideal partner for main courses too- try them with chicken, pork, or seafood.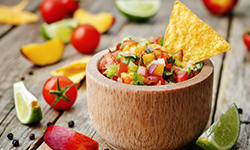 Peach salsa: Peaches make a delicious salad that goes well with baked tortilla chips, fish tacos, on top of burgers or with grilled pork or fish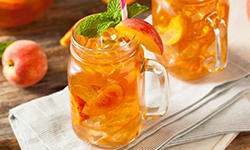 So refreshing: Muddle peaches into your glass of lemonade, iced tea or water for a burst of fresh fruity flavor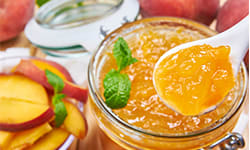 Peach preserves: savor summer all year long by making peach jam when fruit is in-season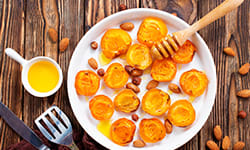 Sweet as pie: Bake sliced peaches with a drizzle of honey and cinnamon for a quick and healthy dessert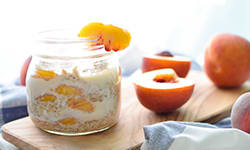 Have a peachy morning: Add peaches to your breakfast! Sliced peaches go great with oatmeal, cold cereals, and as a topper for pancakes, waffles, and French toast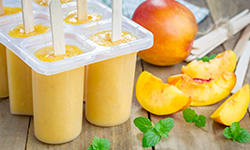 Peachy popsicles: Fresh peaches partner well with other in-season fruit, like strawberries. Add them to fruit juice and yogurt to create wholesome popsicles that kids will love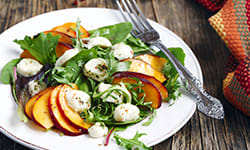 Peach salad topper: Fresh or grilled, peaches can liven up summertime salad
Have extras?
Have more peaches on hand than you can eat or cook up right away?
Can extras or, easier yet, freeze them.
Peel and slice them, lay them on a baking tray and stick in the freezer for a few hours until they're frozen through. Transfer the peach wedges to a re-sealable plastic bag and freeze until ready to use. They'll keep at least 6 months.
Happy August 22 - have a peachy day!
---
If you are interested in making an appointment with Shelby, ask your primary care provider for a referral.