From Shelby Moose, Crossing Rivers Health Registered Dietitian
---
How much water should you drink each day?
It's a simple question with no easy answers. Studies have produced varying recommendations over the years, but in truth, your water needs depend on many factors, including your health, how active you are, and where you live.
Although no single formula fits everyone, knowing more about your body's need for fluids will help you estimate how much water to drink each day.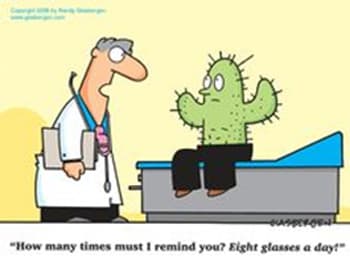 How much water do you need?
Take a deep breath in…..then out…..you just lost some water.
Every day you lose water through your breath, perspiration, urine, and bowel movements. For your body to function properly, you must replenish its water supply by consuming beverages and foods that contain water.
So how much fluid does the average, healthy adult living in a mild climate need? The Institute of Medicine determined that an adequate intake (AI) for men is roughly about 13 cups (3 liters) of total beverages a day. The AI for women is about 9 cups (2.2 liters) of total beverages a day.
What about the advice to drink 8 glasses a day?
Everyone has heard the advice, "Drink eight 8-ounce glasses of water a day," which is about 1.9 liters. Although the "8 by 8" rule isn't supported by hard evidence, it remains popular because it's easy to remember. Just keep in mind that the rule should be "Drink eight 8-ounce glasses of WATER a day." All fluids count towards Institute of Medicine's recommendations, however, most Americans are not drinking enough plain H2O so aiming for 8 cups of water is ideal.
Factors that influence water needs
You may need to modify your total fluid intake depending on how active you are, the climate you live in, your health status, and if you're pregnant or breast-feeding.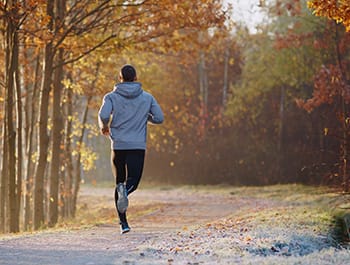 Exercise.

If you exercise or engage in any activity that makes you sweat, you need to drink extra water to compensate for the fluid loss. An extra 1.5 to 2.5 cups of water should suffice for short bouts of exercise, but intense exercise lasting more than an hour (for example, running a marathon) requires more fluid intake. How much additional fluid you need depends on how much you sweat during exercise and the duration and type of exercise.

Environment.

Hot or humid weather can make you sweat and requires additional intake of fluid. Heated indoor air also can cause your skin to lose moisture during wintertime. Further, altitudes greater than 8,200 feet may trigger increased urination and more rapid breathing, which use up more of your fluid reserves.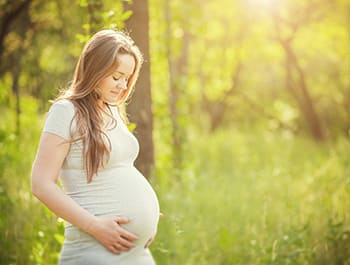 Pregnancy or breast-feeding.

Women who are pregnant or breast-feeding need additional fluids to stay hydrated. Large amounts of fluid are used especially when nursing. The Institute of Medicine recommends that pregnant women drink about 10 cups (2.3 liters) of fluids daily and women who breast-feed consume about 13 cups (3.1 liters) of fluids a day.

Illnesses or health conditions.

When you have fever, vomiting or diarrhea, your body loses additional fluids. In these cases, you should drink more water. In some cases, your doctor may recommend oral rehydration solutions, such as Gatorade or Powerade. You may also need increased fluid intake if you develop certain conditions, including bladder infections or urinary tract stones. On the other hand, some conditions, such as heart failure and some types of kidney, liver, and adrenal diseases, may impair excretion of water and even require that you limit your fluid intake.
*If you have any of the chronic diseases mentioned above, please follow your provider's recommendation for fluid consumption. If you're concerned about your fluid intake or have health issues, check with your provider. He or she can help you determine the amount of water that's right for you.
---
If you are interested in making an appointment with Shelby, ask your primary care provider for a referral.