Non-alcoholic drinks perfect for the holidays
From Shelby Moose, Crossing Rivers Health Registered Dietitian
---
Hosting your family's Thanksgiving, a Christmas gathering, or a New Year's Eve party? Everyone may be in a celebration mode and delicious food and tasty drinks flow freely but remember to make safety your first priority and offer your guests delicious non-alcoholic beverage options, including water, to help keep them safe for the journey home.
Here are a few safety tips for you and your family to consider:
Make a point of knowing who will be driving home. Ask guests as they arrive to get a verbal commitment. Collect car keys at the door. Hire responsible teenagers to drive guests home.

Avoid serving salty foods that encourage people to drink more.

Focus on fun, not drinking at your party. Have games, music, entertainment, and other activities to shift the party's emphasis from drinking to socializing.

Has a guest had enough? Know what to look for. Signs of impairment can include lack of coordination, unusual behavior, loud or slurred speech, and extreme moods. Staying sober yourself makes it easier for you to remain in control of your party and of how much your guests drink.

When serving alcoholic drinks, be sure to measure correct amounts of liquor so that guests may accurately keep track of how much alcohol they have had.

Avoid having alcoholic drinks pre-made and/or served in punch bowls where children can easily serve themselves an alcoholic drink by mistake.

All ages enjoy hot chocolate; add peppermint to make it more festive.

Remember it is illegal to serve alcohol to minors.
Here are several tasty non-alcoholic recipes sure to be a hit during the holidays:
Cranberry-Apple Cider Punch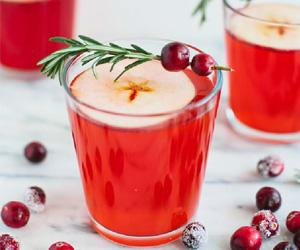 Ingredients
4 cups apple cider, chilled

2 cups cranberry juice cocktail, chilled

2 cups ginger ale, chilled

1 can (12oz.) frozen orange juice concentrate

apple slices and orange slices for garnish

frozen cranberries, optional for garnish

or rosemary cranberry sprig for individual garnish
Instructions
In a 4 quart container, combine cider, juice, and orange juice concentrate.

Refrigerate until serving time.

Just before serving, pour punch into punch bowl and add chilled ginger ale.

Garnish with frozen cranberries, apple, and orange slices.
http://sayyes.com/2014/11/fizzy-drinks-for-the-holidays.html
---
Cranberry Fizz Mocktail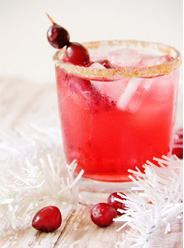 Ingredients
3 ounces of sparkling cider or ginger ale

3 ounces of cranapple juice

Splash of lemon or lime juice

3 tablespoon of sugar and1/2 teaspoon of cinnamon completely blended
Directions
Rub a lemon or lime around the rim of your glass and then dip into the sugar/cinnamon mix.

Fill the glass with ice.

Add the cranapple.

Add a splash of fresh juice of lemon or lime.

Top off with sparkling cider or ginger ale.
http://thistlewoodfarms.com/cranberry-fizz-mocktail/
---
Fireside Spiced Cider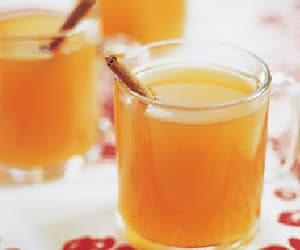 Ingredients
6 cups apple cider

2 orange slices

1 lemon slice

1 slice fresh ginger

smashed 2 cinnamon sticks

10 whole cloves

1

star anise

, optional
Directions
Add cider, oranges, lemon, ginger, cinnamon sticks, cloves and star anise to a large saucepan and stir to mix.

Bring cider to a boil over high heat.

Stirring occasionally, cook until liquid has reduced to 4 cups; about 25 minutes.

Remove fruit and spices with a slotted spoon.

Serve warm.
Yield: 6 Servings
*Per Serving: Calories 120, Total Fat 0g (Saturated 0g, Trans 0g), Cholesterol 0mg, Sodium 25 mg, Total Carbohydrate 31g (Dietary Fiber 0g), Protein 0g, Vitamin A 0%, Vitamin C 4%, Calcium 0%, Iron 0% *Nutritional values are an approximation. Actual nutritional values may vary due to preparation techniques, variations related wo suppliers, regional and seasonal differences, or rounding.
https://www.festfoods.com/blog/fire-spiced-cider
---
Pomegranate Soda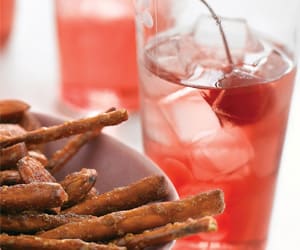 This blushed drink is refreshment with a cherry on top!
Prep: 5 mins
Total Time: 10 minutes
Servings: 8
Ingredients
1 cup sugar

½ cup pomegranate juice

Club soda for serving

Maraschino cherries, for garnish (optional)
Directions
In a small saucepan, combine sugar and juice; bring to a boil over high, stirring until sugar has dissolved.

Reduce to a simmer, cook, without stirring, until mixture is syrupy, about 2 minutes.

To store, refrigerate syrup up to one week; adjust consistency with water, if necessary.

To serve: Fill 8 glasses with ice. Pour 2 tablespoons syrup in each glass and top with club soda. Garnish with cherries if desired.
http://www.marthastewart.com/312630/pomegranate-soda
Happy Thanksgiving from everyone at Crossing Rivers Health!
---
If you are interested in making an appointment with Shelby, ask your primary care provider for a referral.