Supper in 10 minutes OR LESS!!
From Shelby Moose, Crossing Rivers Health Registered Dietitian
---
Stock up on healthy alternatives for a quick, on-the-run supper.
Use that leftover rotisserie, baked, or grilled chicken!
Greek Chicken and Hummus: Use shredded or diced chicken, hummus, lettuce, diced tomatoes, diced cucumber, feta cheese, and a vinaigrette of your liking.
California Chicken Club: Use bacon, shredded or diced chicken, chopped mango, mayo, avocado, lettuce, and tomato.
The combination possibilities are endless – get creative, then get out the door! Have an extra 15 – 30 seconds. Throw the wrap in the microwave, otherwise, it's delicious cold also!

Create your own!
Bread: 100% whole wheat tortilla (Make sure the ingredient list says 100% whole wheat)
Protein: Chicken, turkey, beef, ham, pork, fish, low sodium deli meats, beans, eggs, tuna, and cheese.
Veggies: Pile them high! Add anything you like and have on hand.
Sauce: Mayonnaise, cream cheese, hummus, ranch or other salad dressings, mustard, barbecue sauce, or avocado.
Fruit: Hey, why not! Try cranberries, strawberries, or blueberries!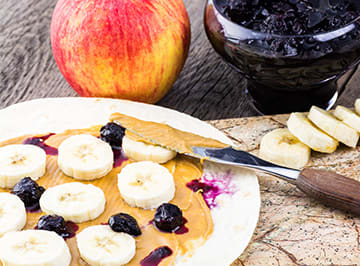 Super simple snack wrap ideas!
Banana, peanut butter, and jelly
Cream cheese with cinnamon and mixed fruit, such as strawberry and banana
…And that's a wrap! :)
---
If you are interested in making an appointment with Shelby, ask your primary care provider for a referral.