From Shelby Moose, Crossing Rivers Health Registered Dietitian
---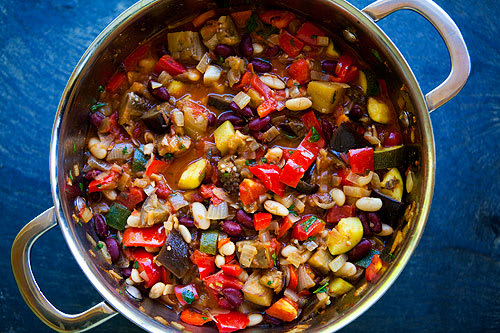 Ingredients
2-3 cans beans, rinsed and drained (I like pinto, black, and kidney beans)
2 tbsp olive oil
1 cup chopped onion
1 cup chopped celery
1 cup chopped carrots
3 cloves garlic minced (optional)
1 cup chopped green or red pepper
1 cup chopped zucchini (optional)
½ cup frozen corn
1 can whole peeled tomatoes (un-drained)
½ cup broth or tomato juice
2 Tbsp oregano
1 tbsp chili powder
Salt to taste
Instructions
Sauté over medium heat chopped onion, garlic, green pepper, can of tomatoes.
In a large stock pan add all ingredients and cook until tender, simmer 30 minutes, stirring occasionally.
Add salt to taste.
Suggested toppings: plain yogurt, shredded cheese and/or chopped cilantro
Suggested accompaniments: Brown rice or cornbread.
Makes about 8-9 cups.