Crossing Rivers Health Clinic Provides COVID Vaccine to Patients
Prairie du Chien, WI – After much anticipation, Crossing Rivers Health Clinic began administering the first dose of COVID-19 vaccinations to eligible patients on Tuesday, February 2, administering a total of 200 vaccines over a two-day period.
Prairie du Chien residents and Crossing Rivers Health Clinic patients Bob and Nancy Becker both received their first dose of the vaccine. "We're so excited to have received the vaccine today. Getting that phone call from the Clinic was a real relief," Nancy exclaimed. "We've had very limited contact with our family in the last year. We mask up and try to stay active, but we love our family and hope this is a step in the right direction to getting back to normal. My dad is in an assisted living home and I am most looking forward to being able to see him and hug him instead of standing outside in the snow waving through the window."
Crossing Rivers Health Clinic staff will be in contact with Clinic patients who meet the qualifications outlined by the State of Wisconsin, to schedule their vaccine appointment. As defined by the Wisconsin Department of Health Services, current eligible populations include frontline healthcare personnel, residents in skilled nursing and long-term care facilities, fire and police personnel, correctional staff, and adults aged 65 and older.
"Our Clinic staff will continue to work diligently to notify our patients who are eligible to receive the vaccine," explained Maria Mathis, Clinic Director. "It's not necessary for patients to contact us and we're not collecting a waiting list. Please rest assured and have faith that we will contact you when you are eligible. Having the ability to vaccinate our patients after this long journey we have all been on is the most amazing feeling. There are no words for what this means to us."
The Wisconsin Department of Health Services reminds residents that the vaccine supply is limited and vaccinations are being targeted to specific groups of people with a higher risk for infection. At this time, the State of Wisconsin does not have enough COVID-19 vaccine to vaccinate all eligible populations.
"I was brought to tears to finally see our patients, who are 65 and older, receive the Moderna COVID-19 vaccine," shared Jenny Pritchett, Chief Clinical Officer at Crossing Rivers Health. "As an organization, Crossing Rivers Health is encouraged by the eagerness of our community members to receive the vaccine and we are honored to be providing this protection to our community as we are able. We plan to continue vaccine clinics for our patients in the coming weeks, dependent upon vaccine allocation from the Wisconsin Department of Health Services. These plans are made week by week, according to how much vaccine is allocated to us."
The Crossing Rivers Health Clinic received notification that they were not allocated any doses of the vaccine for the week of February 8. Each week, enrolled vaccinators, such as the Crossing Rivers Health Clinic, request vaccines based on currently eligible populations. The letter from the Wisconsin COVID-19 Vaccine Program team explained that a vaccination allocation team compiles all requests from enrolled vaccinators into an allocation model using the General Algebraic Modeling System. The model, which is built using expert federal and state guidance, determines the allocation to providers based on how much vaccine the state has been awarded from the CDC for any given week. The model's formula incorporates multiple considerations including the State Disaster Medical Advisory Committee recommendations, the number of doses requested by each organization and priority to vaccinators in communities characterized by higher levels of social vulnerability according to the geographic-level Social Vulnerability Index data.
The letter went on to state, "Although the number of enrolled providers continues to increase, Wisconsin's allocation from the CDC has not increased over the past several weeks. Therefore, we do not have enough vaccine supply to meet the order requests from all providers. We understand that providers who did not receive the vaccine or received an amount lower than ordered are frustrated. We regret we cannot fulfill your request, and we appreciate your patience as we continue to try to meet the demands to vaccinate Wisconsin as quickly as possible."
"We ask for your patience and understanding as we are all navigating this process together," added Pritchett. "In the meantime, continue the good work you're doing to stop the spread by wearing a mask and avoiding close contact with others outside your household."
###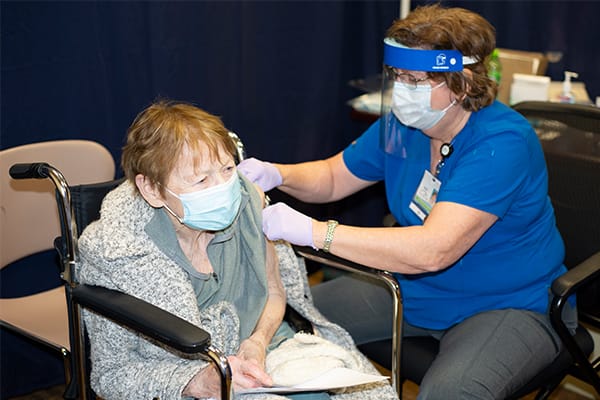 Photo (Theresa Klema): Theresa Klema, along with her husband Larry of Bagley, WI, was very happy to be on the receiving end at the first vaccine clinic held at Crossing Rivers Health Clinic.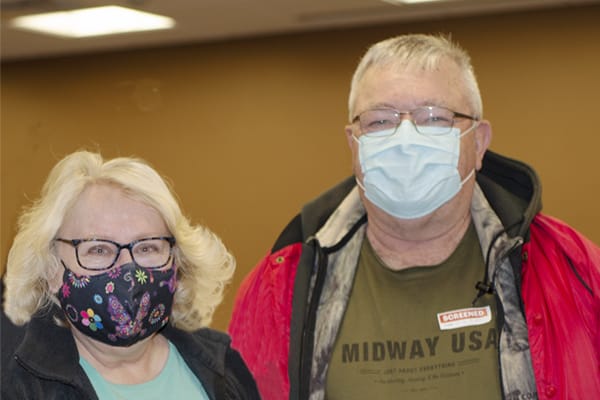 Photo (Bob and Nancy Becker): Prairie du Chien residents and Crossing Rivers Health Clinic patients, Bob and Nancy Becker, were relieved to get the call from the Crossing Rivers Health Clinic to schedule their appointments to receive the vaccine.