Occupational Therapists Help People Achieve Independence
Hospital news
|
Thursday, April 19, 2018
Prairie du Chien, WI – Crossing Rivers Health is joining The American Occupational Therapy Association, Inc. in celebrating April as Occupational Therapy month. The Occupational Therapists and Certified Occupational Therapy Assistants at Crossing Rivers Health take great pride in helping people of all ages live life to the fullest by helping them prevent or live better with injury, illness or disability. The team provides skilled treatment to help patients improve motion, balance, strength, coordination, sensation, visual perception, and cognition with the goal of increasing their participation and independence in all daily activities.
"Occupational Therapy often includes instruction on alternative ways to complete daily tasks. Activities may include one-handed strategies for putting on a shirt following a stroke, using a dressing stick or a sock aid, or home management activities for cleaning and cooking," stated Angela Wagner, Occupational Therapy Manager at Crossing Rivers Health. "We also provide in-home assessments where we come to your home and make recommendations that will improve safety and independence. Every person and every home is unique. This type of assessment can be valuable to keep our patients safe while in the comfort of their home."
The Occupational Therapy team at Crossing Rivers Health has additional specialized training in lymphedema treatment, myofascial release therapy, and the LSVT BIG program.
For more information on occupational therapy at Crossing Rivers Health, visit crossingrivers.org/ot or call 608.357.2216.
###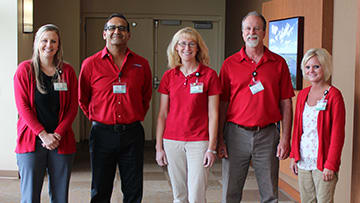 Photo: The occupational therapy team at Crossing Rivers Health in Prairie du Chien includes Crystal Keeney, Javier Alvarez, Angela Wagner, Nathan Rickertsen, and Jill Koehn.