Belle™ Medical Alarm System
Crossing Rivers Health offers Valued Relationships Incorporated in home land line and cellular system.
You can live in your own home independently, secure and free from worry. Assistance is there when you need it – day or night – with a Personal Emergency Reporting System (PERS).
Fall Detection System
Our Fall Detection System has been designed to detect a fall as soon as it happens. If a fall is detected, the PERS will immediately notify Life Assist USA and a two-way voice communication is established. The Fall Detection System also has an emergency help button that can be pushed at any time to signal that immediate medical assistance is needed such as in the case of a fall that does not result in unconsciousness.
Be like thousands of other American seniors who enjoy an independent lifestyle with the help of an emergency system at your fingertips. This simple to use, yet sophisticated emergency alarm and notification system lets you live the life you choose to lead. Enjoy the freedom, security and confidence you deserve.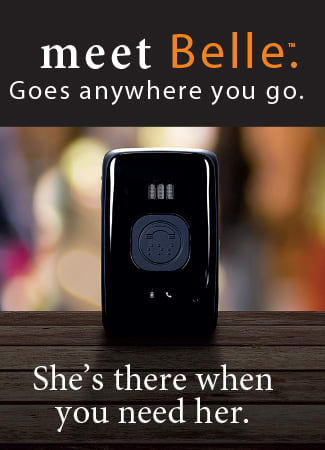 Belle™ is lightweight and easy to wear, and can even be worn in the shower. The rechargeable battery lasts up to 30 days per charge. A simple charging cradle makes recharging easy.
Crossing Rivers Health offers Valued Relationships Incorporated in home land line and cellular system.
The Medical Alarm System has 3 components:

Your personal help button is a waterproof button that can be worn around the neck or wrist at all times. If help is needed, you simply press this button.
The base unit is activated once the PHB is pressed. It will automatically become a source for two-way voice communication with the emergency response center.
An emergency response center dispatcher will speak over the unit to ask if help is needed. This dispatcher will help catered to the situation.
If the Response Center cannot make voice contact with the customer, they will still call for help.
Here's how it works...

It's easy to hear the specialist answer you call with the high quality speaker.
Just press one button to speak with a specialist and get help. It's that simple.
A small red battery light will notify you that Belle is fully charged or is ready to be charged.
After you press your call button, a small blue light will alert you that you call is being relayed to a specialist.
A powerful microphone will allow you to speak with a kind, courteous specialist. They can send emergency help or contact a loved one to assist you.
Try our medical alarm system risk free! No risk, no strings, no contracts! Just complete safety, security, peace of mind, and satisfaction!
For more information contact Home Medical Equipment at 608.357.2399.