Cardiac rehabilitation
The Crossing Rivers Health cardiac rehabilitation department has qualified clinical exercise physiologists providing expertise in exercise programming for persons with a wide variety of health conditions.
Programs offered include:
Phase II cardiac rehab or outpatient cardiac rehabilitation is a physician-referred, professionally monitored exercise program that focuses on managing and modifying risk factors for heart disease in individuals who have had a heart attack, angioplasty or stents, bypass surgery, stable angina, heart valve repair/replacement, heart/lung transplant and congestive heart failure.
Telemetry-monitored sessions last approximately 60 minutes and are typically scheduled three days weekly, for up to 36 total sessions or 12 weeks. All exercise programs are created with a focus on each individual's physical limitations and current level of functioning.
Education sessions include diet management, weight management, home exercise safety and progression, stress management, medications, and smoking cessation as well as blood pressure and cholesterol standards.
Phase II cardiac rehab is generally covered by most insurance companies (Medicare, Medicaid and other private insurance companies), but patients are encouraged to check with their insurance plan to determine co-pays or other requirements.
Peripheral Artery Disease (PAD) exercise is designed for people who suffer from leg pain or cramping in the lower extremities due to intermittent claudication (IC) during activity.
This is a physician referred program in which you must have a face-to-face visit with your physician to obtain a referral.
If you suffer from and are limited by intermittent claudication (IC) pain during activity and your physician has diagnosed you with Peripheral Artery Disease, this program can help you.
PAD exercise is a series of sessions over 12 weeks lasting 45 - 60 minutes per session, with the recommended number of sessions being 36. After 36 sessions, there is a recommended 8 week PAD step-down program.
Each session involves either walking on a treadmill or our indoor track to allow each person to achieve symptom-limited claudication.
Each session is supervised by our exercise physiologists, who have knowledge in appropriate progression of your program to achieve optimal benefits.
Yes, Medicare considers PAD exercise programming a covered benefit with an allowable 36 visits. However, you may be responsible for deductibles and co-payments. Checking with your insurance regarding deductibles and co-payments is recommended. 
Prior authorization is required for insurances other than Medicare.
---
Hear from our patients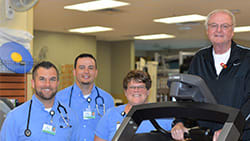 Ron Jones was born and raised in McGregor, Iowa. He married his high school sweetheart, Mary, 49 years ago and proudly served in Vietnam. Ron has experienced a variety of health conditions from type 2 diabetes to peripheral artery disease (PAD) to prostate cancer. Read Ron share his story and how the Cardiac Rehab program at Crossing Rivers Health took his quality of life from 10% to 90%.
---
Darryl suffered a heart attack in April of 2017 and learned that his heart was functioning at only 20%. He attended Cardiac Rehab at Crossing Rivers Health and reached goals he didn't even think were imaginable.
---
The Crossing Rivers Health Cardiac Rehab Team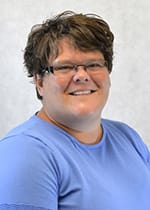 Tammy Thompson
Cardiac Rehabilitation Director

Austin Neis
Exercise Specialist

Pat Stovey
Clinical Exercise Physiologist