Healthy Hearts
Healthy Hearts is an exercise program offered to community members seeking a supervised exercise environment. Healthy Hearts includes professionally guided and supervised exercise sessions with various levels of monitoring and assistance.
Is Healthy Hearts right for me?
Healthy Hearts participation may be appropriate if you have or are being treated for heart disease, congestive heart failure, diabetes, high blood pressure, elevated cholesterol, peripheral artery disease, COPD, overweight or obesity/morbid obesity. However, anyone desiring a professionally supervised exercise program may participate.
Need motivation?
Learn how our clinical exercise physiologist or clinical exercise specialist can help. Consultations, 30 minutes in length, are offered at affordable per-visit cost.
Does insurance cover this program?
No, Healthy Hearts is typically not covered by insurance plans; however, this program is provided at an affordable monthly cost.
---
The Crossing Rivers Health Healthy Hearts Team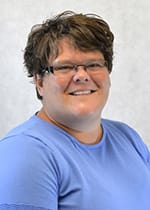 Tammy Thompson
Cardiac Rehabilitation Director

Austin Neis
Exercise Specialist

Pat Stovey
Clinical Exercise Physiologist