Speech therapy
Communication plays a vital role in all aspects of life - in our jobs, our families, and our recreation.
Communication is the basis of learning, developing and maintaining relationships, independence in daily activities, and well-being for a healthy happy life.
What is speech therapy?
Speech-language pathology is a field of expertise practiced by a clinician known as a speech-language pathologist or speech therapist, who specializes in the evaluation and treatment of communication disorders, cognition, voice disorders, and swallowing disorders.
Speech-language pathologists provide a wide range of services, mainly on an individual basis, but also support individuals and families by providing strategies to use within their home and community.
Speech-language pathologists work to assess, diagnose, and treat speech, language, social communication, cognitive-communication, and swallowing disorders in children and adults.
Cognitive-communication - attention, memory, problem-solving, reasoning.
Speech - phonation, articulation, fluency, resonance, and respiratory support for speaking.
Language - expression and comprehension of verbal and written communication.
Swallowing - difficulties in the passage of solid and or liquid from the mouth to the stomach.
Voice - hoarseness, poor vocal volume, abnormal (e.g. rough, breathy, strained) vocal quality. This includes individuals with Parkinson's disease who often develop voice issues as a result of their disease. Learn more about our LSVT® services.
Social communication - interactions between two or more individuals within daily activities and following appropriate social routines.
Speech therapy services

Crossing Rivers Health offers a LSVT® trained clinician in the Speech Therapy Department. LSVT® benefits Parkinson's patients in the early through mid-late stage whose symptoms include soft, mumbled, monotone or hoarse voice. LSVT® can also benefit those with CP, CVA, or voice impairments.
A speech evaluation is offered at no cost to the family.
Augmentative and alternative communication devices (AAC) include all forms of low (pictures) and high (tablets) tech communication that are used to express thoughts, needs, wants, and ideas.
Crossing Rivers Health can assist in providing options for high tech speech generating devices. The use of these devices may increase social interaction, school performance, and self-esteem.
Crossing Rivers Health offers CVA treatment for:
Reading
Writing
Dysarthria
Memory
Problem solving and reasoning
Receptive/expressive language
Crossing Rivers Health offers clinical swallow assessment, modified barium swallow studies, and dysphagia treatment completed by a licensed speech language pathologist.
---
Hear from our patients
Evelyn's story
The Crossing Rivers Health Speech Therapy team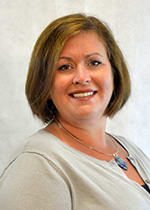 Kim MacEachern
Speech Therapist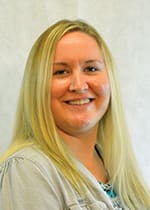 Juli Smith
Speech Therapist