Wellness Minute - What are opioids?
What are opioids?
Opioids are a class of drugs that include the illegal drug heroin, synthetic opioids such as fentanyl, and pain relieves that are available legally by prescription, such as oxycodone (OxyContin®), hydrocodone (Vicodin®), codeine, morphine, and many others.
Why are opioids used?
Opioids may be used to treat acute pain following an injury or surgery or a terminal malignancy. Opioids should only be used as a temporary treatment to reduce pain, allowing the individual to heal. Opioids do not reduce inflammation or treat infection and should not be used to treat chronic pain. If they are not taken as prescribed or if they are taken for an extended period of time, the risk of addiction, overdose, or death increases.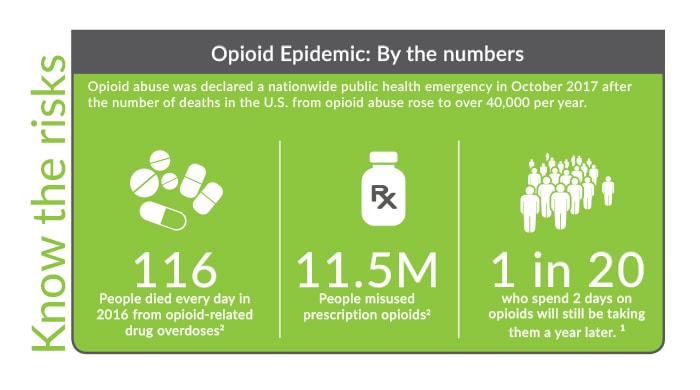 What is the difference between chronic pain and acute pain?
Chronic pain
Exists beyond the healing process and is usually associated with prolonged disease
Can contribute to disability, anxiety, depression, lack of sleep, poor quality of life
Lasts beyond healing - more than 6 months
Acute pain
The result of a clearly defined cause such as injury, surgery, burns, or cuts
Sudden, but temporary pain
Goes away once healed - less than six months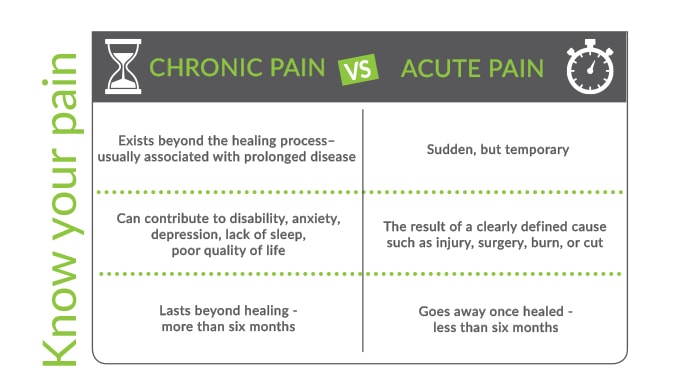 What is the best way to treat pain?
The most important factor in determining an appropriate pain management plan is to determine the stressor and the cause of the pain. To do this, contact your primary care provider. If you don't have a primary care provider, call the Crossing Rivers Health Clinic and we can help determine which provider would be a good fit for you.
Prior to your appointment, take detailed notes relating to your pain to share with your provider. Ask questions and take notes during your appointment to ensure you have an accurate understanding of your treatment plan.
Establish goals of your determined treatment plan. Follow through with the tasks you discuss with your primary care provider - whether the tasks include exercise, a referral to the pain clinic, or physical therapy. Make sure you move forward with your treatment plan and take the steps necessary to accomplish your goals.
Follow up with your primary care provider as they recommend. Keep open lines of communication relating to pain intensity, medications, and other symptoms you may be experiencing. Your primary care provider is your partner in healthcare. Together, you can determine a plan of treatment that will work for you and then adjust as needed.
If you would like to discuss your pain with a member of the Crossing Rivers Health Clinic team, please call 608.357.2500. You may also schedule an appointment or request a referral to see Dr. Amarjit Virdi, Pain Management Specialist, at Crossing Rivers Health Center for Specialty Care by calling 608.357.2525. We can help.
Request an appointment at the Clinic