2 Step CPR Awareness - Learn more at Crawford County June Dairy Days
Did you know that seventy percent of cardiac arrests happen outside of the hospital? Less than fifty percent of those experiencing out-of-hospital cardiac arrests receive the proper help that they need until licensed help arrives on scene.
Sadly very few people who experience cardiac arrests survive; however, if proper CPR is performed immediately, the chance of survival can almost triple. Hands-only CPR is just as effective as traditional CPR, no matter where you are.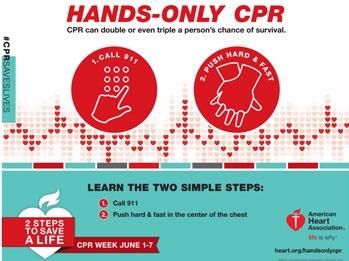 Learn two simple ways to save a life using hands-only CPR at:
June Dairy Days Breakfast
Saturday, June 3rd, 2017
The Steger Family Farms
60724 Irish Ridge Road
Prairie du Chien, WI
Lynn Groom, Crossing Rivers Health Education Director, will be raising awareness and training the public on ways to help save lives in cardiac emergencies.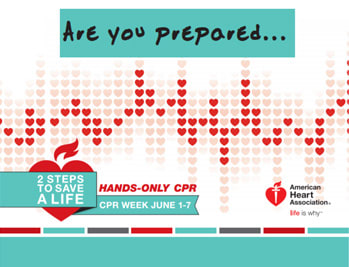 Being knowledgeable on CPR techniques is beneficial for everyone. Knowing two simple steps can potentially save the lives of many. It only takes a minute to learn lifesaving skills, like hands-only CPR. You never know the next time you will need to save the life of a loved one, a friend or a stranger!
To learn more about CPR awareness, visit heart.org/handsonlycpr or register for an upcoming Heartsaver CPR/AED course below.
Be on the lookout for Lynn Groom at this year's June Dairy Breakfast.