BE FAST: Know the signs of a stroke
Stroke is the fifth leading cause of death in the United States. Certain factors affect a person's risk for stroke, including age, high blood pressure, and family history, but many strokes are preventable.
Can you recognize the signs of a stroke? BE FAST Bella is here to help.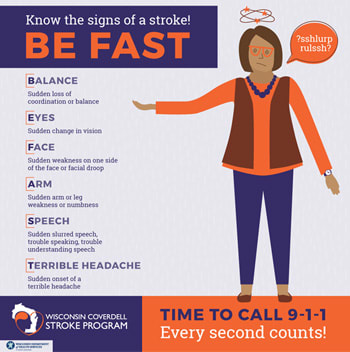 Download the BE FAST Bella poster
BE FAST
BALANCE: Sudden loss of coordination or balance

EYES: Sudden change in vision

FACE: Sudden weakness on one side of the face or facial droop

ARM: Sudden arm or leg weakness or numbness

SPEECH: Sudden slurred speech, trouble speaking, trouble understanding speech

TERRIBLE HEADACHE: Sudden onset of a terrible headache
---
Preventing Stroke: What you can do
You can help prevent stroke by making healthy lifestyle choices.
Healthy Diet
Choosing healthy meal and snack options can help you prevent stroke.
Be sure to eat plenty of fresh fruits and vegetables.
Eating foods low in saturated fats, trans fat, and cholesterol and high in fiber can help prevent high cholesterol.
Limiting salt (sodium) in your diet can also lower your blood pressure. High cholesterol and high blood pressure increase your chances of having a stroke.
Healthy Weight
Being overweight or obese increases your risk for stroke. To determine whether your weight is in a healthy range, doctors often calculate your body mass index (BMI). If you know your weight and height, you can calculate your BMI at CDC's Assessing Your Weight website. Doctors sometimes also use waist and hip measurements to measure excess body fat.
Physical Activity
Physical activity can help you stay at a healthy weight and lower your cholesterol and blood pressure levels.
For adults, the Surgeon General recommends 2 hours and 30 minutes of moderate-intensity aerobic physical activity, such as a brisk walk, each week.
Children and teens should get 1 hour of physical activity every day.
No Smoking
Cigarette smoking greatly increases your chances of having a stroke. If you don't smoke, don't start. If you do smoke, quitting will lower your risk for stroke. Your doctor can suggest ways to help you quit.
Limited Alcohol
Avoid drinking too much alcohol, which can raise your blood pressure. Men should have no more than two drinks per day, and women only one.
Control Medical Conditions
Check Cholesterol
Your doctor should test your cholesterol levels at least once every 5 years. Talk with your healthcare team about this simple blood test. If you have high cholesterol, medicine and lifestyle changes can help lower your risk for stroke.
Control Blood Pressure
High blood pressure usually has no symptoms, so be sure to have it checked on a regular basis. Talk to your healthcare team about how often you should check your levels. You can check your blood pressure at home, at a doctor's office, or at a pharmacy.
If you have high blood pressure, your doctor might prescribe medicine, suggest some changes in your lifestyle, or recommend you to choose foods with lower sodium (salt).
Control Diabetes
If your doctor thinks you have symptoms of diabetes, he or she may recommend that you get tested. If you have diabetes, check your blood sugar levels regularly. Talk with your health care team about treatment options. Your doctor may recommend certain lifestyle changes, such as getting more physical activity or choosing healthier foods. These actions will help keep your blood sugar under good control and help lower your risk for stroke.
Treat Heart Disease
If you have certain heart conditions, such as coronary artery disease atrial fibrillation (irregular heartbeat), your health care team may recommend medical treatment or surgery. Taking care of heart problems can help prevent stroke.
Take Your Medicine
If you take medicine to treat heart disease, high cholesterol, high blood pressure, or diabetes, follow your doctor's instructions carefully. Always ask questions if you don't understand something. Never stop taking your medicine without first talking to your doctor or pharmacist.
Work with Your Healthcare Team
You and your healthcare team can work together to prevent or treat the medical conditions that lead to stroke. Discuss your treatment plan regularly, and bring a list of questions to your appointments.
If you've already had a stroke or TIA, your health care team will work with you to prevent further strokes. Your treatment plan will include medicine or surgery and lifestyle changes to lower your risk for another stroke. Be sure to take your medicine as directed and follow your doctor's instructions.
If you would like to establish care with a primary care provider at Crossing Rivers Health Clinic, please call 608.357.2500 or request an appointment at the link below.
---
Stroke Facts
Stroke is the fifth leading cause of death in the United States, killing about 140,000 Americans each year—that's 1 of every 20 deaths.
A stroke, sometimes called a brain attack, occurs when a clot blocks the blood supply to the brain or when a blood vessel in the brain bursts.
Someone in the United States has a stroke every 40 seconds. Every four minutes, someone dies of stroke.
Every year, about 795,000 people in the United States have a stroke. About 610,000 of these are first or new strokes; 185,000 are recurrent strokes.
Stroke is an important cause of disability. Stroke reduces mobility in more than half of stroke survivors age 65 and over.
Stroke costs the nation $34 billion annually, including the cost of health care services, medications, and lost productivity.
You can't control some stroke risk factors, like heredity, age, gender, and ethnicity. Some medical conditions—including high blood pressure, high cholesterol, heart disease, diabetes, overweight or obesity, and previous stroke or transient ischemic attack (TIA)—can also raise your stroke risk. Avoiding smoking and drinking too much alcohol, eating a balanced diet, and getting exercise are all choices you can make to reduce your risk.
References
Vital Signs: Recent trends in stroke death rates – United States, 2000-2015. MMWR 2017;66.
Benjamin EJ, Blaha MJ, Chiuve SE, et al. on behalf of the American Heart Association Statistics Committee and Stroke Statistics Subcommittee. Heart disease and stroke statistics—2017 update: a report from the American Heart Association. Circulation. 2017;135:e229-e445.
The Centers for Disease Control and Wisconsin Coverdell Stroke program contributed to the content on this page.