Cardiac Rehab Team Participates in Hearts of Gold Games
From Tammy Thompson, Cardiac Rehab Manager
---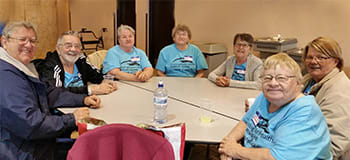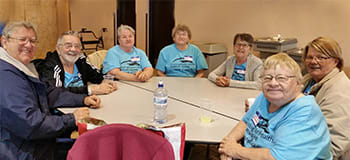 On behalf of Crossing Rivers Health Cardiac Rehabilitation and Healthy Hearts, we were so proud to have our team of seven participate at the Annual Hearts of Gold Games held in Baraboo, Wisconsin. Our team was among 105 Cardiac/Pulmonary Rehab participants entering the modified Olympic games from the Southwest Wisconsin region.
Our hospital and area communities continue to be well represented at the games. Teams in attendance traveled from Prairie du Chien, Dodgeville, Janesville, Fort Atkinson, Columbus, Baraboo and Monroe. We have attended the competition for the last 18 years. Our team looks forward to going, and recruits new participants every year. One of our teammates, George Kahler, has attended the games every year.
Hearts of Gold Games participants could elect to compete in 10 different recreational events- horse shoes, bean bag toss, golf putting, ladderball, walking and swimming events and a knowledge test. Participants could also choose to participate in the annual bake-off to showcase heart healthy recipes prepared by participants. This year's bake-off category was heart healthy appetizers.
Connie Collins won 3rd place in the bean bag competition and Dyan Winkers earned 3rd place in the bake-off competition with her Bruchetta recipe. Other members of the team were Betty Breitsprecher, Janet Rieck, Bob Zwirlein and Cynthia Stoney. The team members won multiple door prizes, and also the grand prize, a bean bag set.
We congratulate and thank each of the participants for entering these challenging events and representing our organization year after year. Our team travels the furthest to participate, and we have the smallest team in attendance, but we always bring home a prize or two! George Kahler has been representing the hospital for 17 years, and Bob Zwirlein, Dyan Winkers, Connie Collins and Janet Kahler have participated in the games for the past five or more years. The value of exercise, together with a healthy lifestyle, continues to generate personal rewards!
Learn more about the Cardiac Rehab and Healthy Hearts Program or Pulmonary Rehab here or by calling 608.357.2349.