Crossing Rivers Health Celebrates 60 Years Of Caring For You
Crossing Rivers Health hit an incredible milestone this year, providing 60 years of exceptional service to the area. Crossing Rivers Health continues to stay true to the same goals and vision of the organization today as they did in 1957. We are proud to serve the needs of this area and continues to adapt with the fast-paced changes in healthcare today.
"Since 1957, the mission of the hospital has been to meet the healthcare needs of the communities we serve, and it has been an amazing six decades," states Bill Sexton, Chief Executive Officer at Crossing Rivers Health. "In the past 60 years, there have been revolutionary changes in medicine and technology, and the hospital has evolved and adapted to accommodate those changes. An integral part of the hospital's success, is that our team has led our organization to make those changes over the years with dedication and vision."
The building of the first hospital (pictured above) began in 1954 with its opening in 1957. Although there was a hospital in the area, patients often had to wait for surgery or other medical care because there weren't enough beds to accommodate them.
Community members knew that the present hospital facilities were being pushed to well beyond their intended limits. From the earliest planning stages to the groundbreaking ceremony, community members and physicians worked selflessly to bring the healthcare facility into being. Funds were sought by private donors, government aid and by loans. Since its establishment, the hospital remains an independent not-for-profit rural community hospital.
Samantha Donahue, Human Resources Director, is extremely proud of the hospital's staff tenure record. She said, "The hospital opened with a staff of only 29 people. Today, the total number of employees is 372. An impressive 63 of our employees have 20 years of service or more, and 40 employees have tenure of 15 to 19 years. Those numbers speak volumes about the extensive experience of our team and the caring environment that they have developed to deliver compassionate care."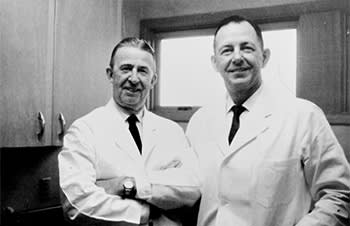 Dr. Ferrell (left) and Dr. Epley (right) were two of the first medical staff members.
Linda Schoulte has been a registered nurse at the hospital since 1978. As the Director of Inpatient Services at Crossing Rivers Health, she collaborates with physicians to coordinate inpatient care.
She commented, "There have been so many changes since my early days at the hospital. Years ago, longer stays were common for patients to recover from surgery or from an injury, and it was not unusual for women to spend up to a week or more in the hospital after giving birth."
"Advances in technology have given us medication dispensing systems, smart pumps to deliver intravenous fluids and medications, the electronic health record and much more. Diagnostic equipment and minimally invasive procedures allow patients to recover faster. It has been very gratifying to interact with patients and their families, fellow colleagues and our medical staff- all to help others," stated Schoulte. (seated in picture above)
The entire organization at Crossing Rivers Health thanks you for choosing us to serve your needs. We look forward to serving this area for the next 60 years and will continue to adapt to the changes in medicine, technology and patient services.
"Sixty years is an exciting milestone for our organization. Our mission is as valid as it was 60 years ago- we are dedicated to providing the best care for every patient, every time. It is a privilege to serve the people of this beautiful region of Southwest Wisconsin and Northeast Iowa, and we are looking forward to the next 60 years," comments Sexton.