Crossing Rivers Health Hospice Named Three-time Hospice Honors Award Recipient
From Laura Lane, RN, Hospice Director at Crossing Rivers Health
---
On behalf of the entire Crossing Rivers Health Hospice team, I am excited to announce that Crossing Rivers Health Hospice has been named a 2018 Hospice Honors recipient by Deyta Analytics, a division of HEALTHCAREfirst, a provider of home health and hospice software and analytics.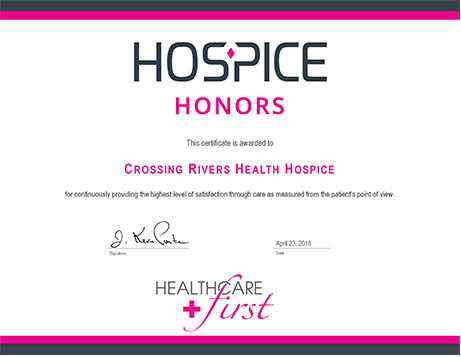 This is the third year in a row that Crossing Rivers Health Hospice has received this prestigious recognition for providing the highest level of quality as measured from the caregiver's point of view.
Hospice Honors acknowledges high performing agencies by analyzing performance of Hospice Consumer Assessment of Healthcare Providers and Systems (CAHPS) quality measures. Award criteria were based on Hospice CAHPS survey results for an evaluation period of October 2016 through September 2017. Award recipients were identified by evaluating performance on a set of 24 quality indicator measures. Hospice Honors recipients include those hospices scoring above the Deyta Analytics National Performance Score on 20 of the evaluated questions.
Our entire team is incredibly proud of being recognized with this honor for the third year in a row. Our team is passionate and dedicated to providing our patients and their families with the highest quality end of life care. It is a testament to our staff that our patients and their families recognize their commitment to the Hospice philosophy. Our comprehensive team of physicians, nurse practitioners, registered nurses, medical social workers, home health aides, volunteers, chaplain, and home medical equipment experts provide physical, emotional, and spiritual support to the highest level.
Crossing Rivers Health Hospice provides care in communities in Southwest Wisconsin and Northeast Iowa in a variety of settings: private homes, assisted living facilities, nursing homes, and for short-term purposes- at area hospitals. Individuals and families wanting to learn more about the compassionate and expert care, emotional and spiritual support, pain management and other services offered through Crossing Rivers Health Hospice may call 608.357.2000.
---
Hear From Our Patients: John & Margaret's Story
John Wachter's adoration for his late wife Margaret is evident- well past the last breath of life. John best describes their love as true and genuine, standing the test of time- 63 years to be exact –as well as the trials and tribulations of life. Hear John talk about Margaret's pancreatic cancer diagnosis and the care provided to his family from the team at Crossing Rivers Health Hospice.
---
Eunice's Story
At Crossing Rivers Health Hospice, hospice care is about how you live. Watch Brittney Miller, Hospice Social Worker and Volunteer Coordinator, and Vicki Heilmann, Hospice Volunteer, share Eunice's story.