Enjoy "Wellness Wednesday" Every Wednesday
From Karen Brewer, Crossing Rivers Health Director of Nutrition Services
---
In the Crossing Rivers Health cafeteria, you can enjoy "Wellness Wednesday" every Wednesday with a healthy salad prepared fresh and made-to-order by Chef Randy. Chef Randy partners with the Superior Fresh greenhouse to offer multiple varieties of leafy greens at one time - creating mixed salads, whole head lettuce, and herbs for his Buffalo Chicken, Caesar, Greek, Oriental, Italian, and Mozzarella Grilled Chicken among others.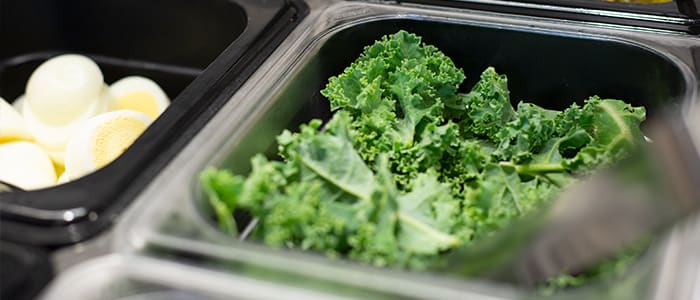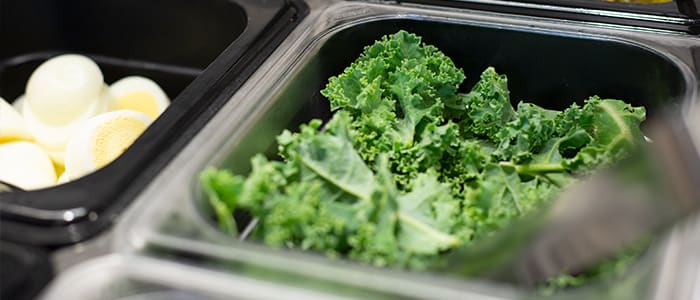 Enjoy a fresh salad any day of the week
The Dining Room at Crossing Rivers Health offers a fresh salad bar every day of the week. There is perhaps no easier way to incorporate a large variety of local, seasonal, and healthy choices into your menu than with our salad bar!
Four key ingredients to make any bowl o' greens delicious and nutritious
Greens - Iceberg lettuce, kale, and spinach
Protein - boiled eggs, meats, and nuts
Veggies or fruit
Dressing - we are excited to offer homemade Ranch and Blue Cheese dressings!
Then, there are bonus points for grains and extras (say parmesan cheese)! Did you know parmesan cheese provides the highest protein of all the cheeses?
Eating salad almost every day may be one of the healthiest eating habits you can adopt - and one of the simplest. It's also a super-convenient way to work in a couple of servings of vegetables and/or fruit.

Spice it up with salad toppings
Vegetables - Tomatoes, beets, cucumbers, peppers, carrots, peas, and broccoli.
Radishes - Radishes contain folate, fiber, riboflavin, and potassium, as well as good amounts of copper, vitamin B6, magnesium, manganese, and calcium, are less prominent nutrients that support the healthy properties of radishes. It is probably no surprise that radishes contain fiber (aka indigestible carbohydrates).
Sunflower seeds or dried fruit.
Seafood, turkey, ham, chicken, or hard-boiled eggs - add protein to your salad to give you that extra boost of energy for the rest of the day.
Mushrooms - the specific mushrooms used in our kitchen are super dense with nutrients. They have more copper, potassium, protein and selenium than either oysters or shiitake mushrooms! They're also a good source of phosphorus, zinc, niacin and pantothenic acid.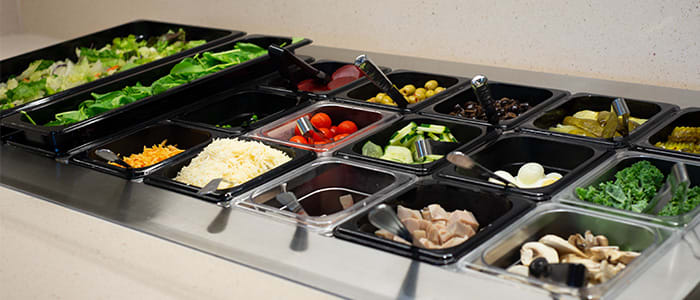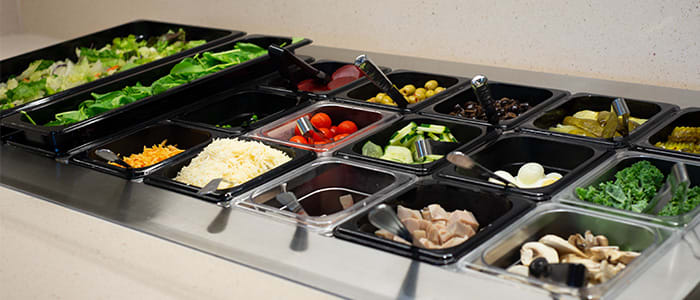 In addition to "Wellness Wednesdays", the Crossing Rivers Health cafeteria features a plentiful salad bar daily. We welcome the community to dine in our beautiful spacious cafeteria any day of the week, including holidays and weekends.
Crossing Rivers Health Dining Room Hours
Breakfast: 7 to 10 a.m.
Lunch: 11:00 a.m. to 2 p.m.
Dinner: 4:00 to 6:30 p.m.
Salad bar: 11:00 a.m. to 6:30 p.m. 7 days a week