Family Meals: A time for health and happiness
From Shelby Moose, Registered Dietitian at Crossing Rivers Health, and Annika Crossley, Viterbo University Dietetic Intern, at Crossing Rivers Health
---
Eating together regularly can provide a variety of benefits for you and your family. It's not easy juggling busy schedules of all the members of your family. But between work, school, band concerts and sports events, it's important that you set aside time each week to get together for family meals.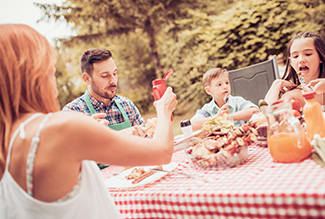 In fact, the Academy of Nutrition and Dietetics reports that several studies have found that when families eat dinner together regularly, all members of the family benefit. If evening schedules make dining together difficult, the family meal you share regularly doesn't have to be dinner. You can start the day together with a family breakfast or have leisurely family lunches on the weekend.
It's no secret that children mimic the behavior of their parents, and there's no better time to model good behaviors for your children than at a family meal.
At family meals, you can teach your children to make smart choices and eat nutritious foods. You can also introduce kids to new foods, develop regular meal patterns and share quality time as a family. Studies also show that teens that eat regularly with their families are less likely to smoke, drink or use illegal drugs.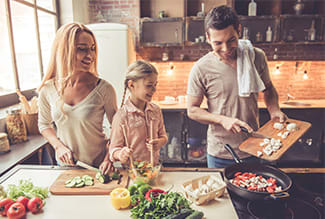 The Academy of Nutrition and Dietetics lists these benefits of family meal times:
Open lines of communication. Eating together provides a good opportunity for family members to share stories and ideas.
Bolster kids' self-confidence. Studies show that kids who eat regularly with their families feel more stable and secure than kids with no regular family meal routine.
Reinforce table manners. Family mealtime is a great place to practice everything from using a napkin properly to clever ways to strike up a conversation.
Improve school performance. According to parenting and health experts, eating and talking together helps boost academic performance as well as prevent behavior problems at school.
Strengthen family bonds. Eating together gives all family members the opportunity to provide encouragement to one another.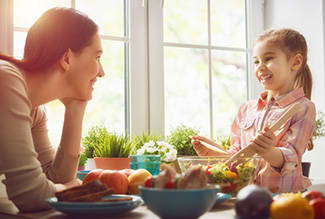 Even if you want to have regular family meals, it can be difficult to find the time to get everyone together—not to mention the time to cook. There are steps you can take to make the most of the time you do have.
You can turn to take-out foods if you're in a major time crunch, though they may not be as nutritious as home-cooked meals.
Here are some tips that can help you get your family together for meals:
Set a time. Pull out a calendar and get family members to commit to dates and times for family meals.
Plan a menu. Talk about what your family would like to eat in the coming week. Get input from all family members, including kids, on meals.
Keep it simple. If you're in a hurry, use prepackaged sauces and salads or create a buffet of leftovers.
Share the load. Give each family member a task. Adults can put together the entrées, older kids can make a salad and young children can set the table.
Tune out distractions. Turn off the television, leave electronics in another room, and let the answering machine handle telephone calls.
Take your time. Try to wait at the table until all family members are done eating. Kids often take longer than adults to eat.
Serve healthy foods. When you do get the family together, be sure to prepare healthy, balanced meals. Try to include plenty of fruits and vegetables and whole grains.
Getting your family together for a meal every day may not be realistic. But making family meals a priority in your home is definitely a good idea. Make family and conversation the priorities of mealtimes.