Give this tasty recipe a try to help beat the summer heat. Compliments of Shelby Moose, Registered Dietitian, Nutrition Services at Crossing Rivers Health
Refreshing Watermelon Popsicles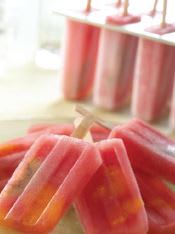 Ingredients
2 1/2 - 3 cups cubed, seeded watermelon
1 tablespoon lemon juice
Optional: fruit, such as grapes, strawberries, kiwi, raspberries (may use fresh, frozen, or canned in 100% fruit juice)
Optional: 1/4 cup sugar
Optional: 1/2 cup yogurt
Directions:
Place all ingredients in a blender and blend until mixture is smooth. Pour the mixture into popsicle molds.
If you do not have popsicle molds, that's okay! To make in small plastic cups, pour the watermelon mixture into 8 small cups, and cover each cup with foil.
Poke a popsicle stick through the center of the foil and into the mixture.
Freeze until firm (which can take several hours or overnight).
Enjoy!