Health Information Professionals - Leading the way to quality data
Contributed by the Sue Schultz, Crossing Rivers Health Registered Health Information Administrator
---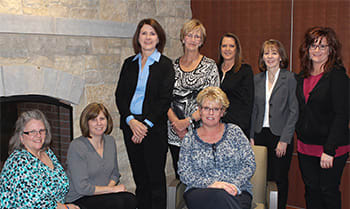 Staff members in the Health Information Management Department at Crossing Rivers Health are joining thousands of their colleagues across the nation to celebrate Health Information Professionals Week March 26–April 1.
Our team works with physicians and other healthcare providers to ensure accurate, timely, and complete documentation to enable reporting of accurate information to insurers, health data registries and other users of data both internally and externally. This results in better clinical and business decisions to enhance healthcare quality. It is our responsibility to ensure that patient information is kept private, secure and released only according to state and federal laws.
Join Christopher Brophy, Business Administration at Crossing Rivers Health, in thanking the Health Information Management team.
"Health Information Management professionals are trusted members of our healthcare team. In order to improve care, data must be entered, analyzed and used effectively. Crossing Rivers Health HIM professionals do an outstanding job ensuring accuracy and managing patients' health records. This team of dedicated HIM staff members must maintain the integrity of each patient health record which is vital for providers and patients alike. We truly appreciate and thank our HIM team for their commitment to all of us," shares Christopher.