La Soiree Gala Supports Life-Saving Diagnostic Equipment
From Sasha Dull, Chief Development Officer
---
Tickets are now available to purchase for the Crossing Rivers Health Foundation's fundraising gala, La Soirée Royale. The event will be held Saturday, April 8, at the Dousman House in Prairie du Chien.
Limited tickets are available for this premier fundraising event at $65 each and can be purchased at the concierge desk inside the main entrance of Crossing Rivers Health or by calling 608-357-2369.
100% of the proceeds from this year's event will go toward the purchase of two pieces of life-saving diagnostic equipment.
A molecular analyzer for the laboratory department
The molecular analyzer will allow fast, targeted treatment of sepsis (blood stream infections), and gastrointestinal illnesses caused by bacterial, viral, or parasitic infections. This life-saving diagnostic testing is not currently available through the Crossing Rivers Health laboratory. These tests have typically been sent to an outside laboratory, with results returned in two to three days. Testing on-site with the molecular analyzer will provide results in approximately one hour.
---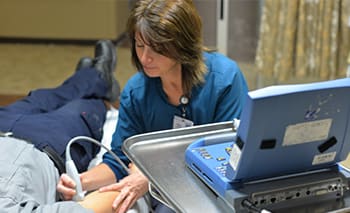 An ultrasound unit for the emergency department

A new ultrasound unit will be used to assist with IV and central line placement- for fluids or medication administration, anesthesia nerve blocks for pain, and FAST (Focused Assessment with Sonography for Trauma) exams to evaluate trauma to the abdomen and check for fluid around the lungs. A new system will bring high quality imagery and replace current, outdated equipment.
---
La Soirée will begin at 5 p.m. with hors d'oeuvres and cocktails followed by a buffet dinner, silent auction, live auction and casino-style gaming entertainment 8 from 10:30 p.m. The semi-formal event will feature a number of great items for bid, including jewelry, handmade quilt, electronics, luxury vacation, event tickets, memorabilia and much more.

Sponsorship opportunities are still available. Click this link to learn more or contact us at 608-357-2369.
---
The Crossing Rivers Health Foundation is a 501 (c) (3) non-profit organization. Through philanthropic efforts, the Foundation supports the mission of the hospital, ensuring a lifetime of quality health care to the people of our regional communities. For more information, visit GivetoCRHF.org or call 608.357.2140.