Making Connections This Summer
From the Crossing Rivers Health Hospice Team
---
Summer is a time for enjoying the warm weather and all the activities the outdoors have to offer.
When we are grieving the loss of a loved one, once enjoyed pastimes can seem less than appealing. Walking through the woods is now something we dread, as our companion is no longer with us. The very thought of this can be overwhelming.
It may be a comfort to find that nature can be helpful in working through grief. The outdoors provides a sense of connection and belonging that is vital in the human experience. This is true even when we are going through our most difficult days. This is likely when our spirit needs the most care.
Nature is everywhere; even in a city. Watching a family of geese walk along the river or helping a turtle cross the road can help put a sense of belonging back in our heart. Taking a moment to sit and watch the clouds roll by can restore us, even if just for a moment. It is simply amazing to look at the world around us and see how each and every living things has a purpose in being here. This includes you.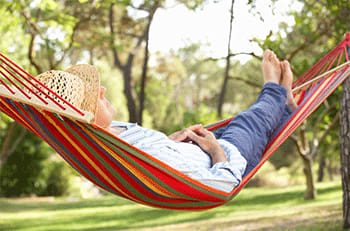 Connection is what makes us human and finding that in our world is a spiritual experience. The emotional attachment we share with our loved one is something the loss cannot overshadow. Continuing to find that connection in our everyday lives is a way we can honor them while learning to live with a broken heart.
For two years in a row, the Crossing Rivers Health Hospice team has been named a 2017 Hospice Honors recipient by Deyta Analytics, a division of HEALTHCAREfirst, the leading provider of Web-based home health and hospice software, outsourced billing and coding services, and advanced analytics. Hospice Honors is a prestigious program that recognizes hospices providing the highest level of quality as measured from the caregiver's point of view.