Supervised Exercise Program Goes A Long Way For Those With Peripheral Artery Disease
From the Crossing Rivers Health Cardiac Rehab team
---
During or after walking or climbing stairs, are you bothered by:
Pain

Fatigue

Heaviness

Cramping in your legs
If so, you could be experiencing symptoms of Peripheral Artery Disease, otherwise known as PAD or Peripheral Vascular Disease.
What is PAD?
PAD is a form of cardiovascular disease in which plaque builds up in the arteries of the legs and feet and slows blood flow to the leg muscles.
PAD affects millions of Americans, and it often goes undetected because it doesn't always have symptoms.
Having PAD is a serious condition, but it is treatable. Major risk factors for PAD, include a history of smoking and diabetes.
Is the Supervised Exercise Therapy program right for me?
What are the symptoms of PAD?
When symptoms do present,people often self-diagnose, blaming arthritis, aging or being out of shape. PAD is easily diagnosed through a simple test called an Ankle Brachial Index. Other tests can include imaging studies- such as Ultrasound or CT scan. These tests can identify the amount of blood flow to the feet and legs.
How is PAD treated?
PAD can be treated with a combination of lifestyle changes, medications, and even surgery.
One easy, low cost treatment option for PAD is Supervised Exercise Therapy (SET), which involves a series of weekly exercise sessions with the end goal of an improved ability to walk with reduced pain.
Managing your risk factors by making healthy changes is important. Walking is the most effective way to treat PAD and over time ease the discomfort or pain that occurs with activity.
Walking is typically uncomfortable for those that suffer with PAD, and it is usually the last thing a patient wants to do. However, regular exercise over time helps the body increase blood flow around a blockage in the artery of the leg.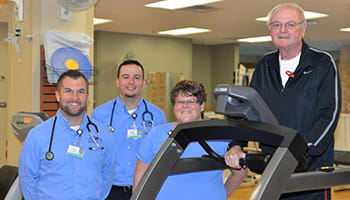 At Crossing Rivers Health, our clinical exercise staff has been treating individuals with PAD through our SET program with excellent results. We are also pleased to share that Medicare now offers coverage for beneficiaries to participate in SET for the treatment of their symptomatic peripheral artery disease.
---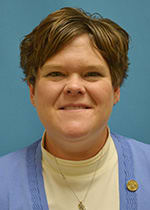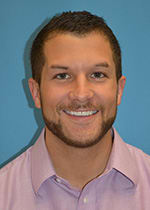 The clinical exercise staff at Crossing Rivers Health includes Tammy Thompson, Pat Stovey, and Austin Neis.
They have a combined total of 27 years of experience in exercise programming for individuals with heart disease risk factors and Peripheral Artery Disease.
Tammy and Pat are also certified by the American College of Sports Medicine and the American Association of Cardiovascular and Pulmonary Rehabilitation in exercise programming for patients with chronic disease.
Individuals are encouraged to talk with their physician about a referral to the supervised exercise program as a treatment option for PAD. A physician referral is required for enrollment.