A teal pumpkin could save the lives of children this Halloween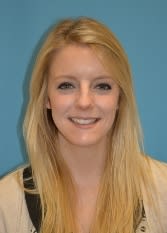 From Shelby Moose, Registered Dietitian
Every child should be able to experience the joy and tradition of trick-or-treating on Halloween. But children with food allergies are often left out of the fun, since most candy is off limits for them.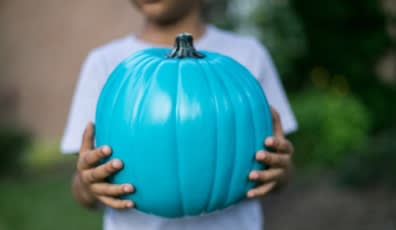 I encourage families to join the Teal Pumpkin Project by painting a pumpkin teal and placing it in front of their home to indicate that non-food treats available. Why teal? Teal has been the color to raise awareness for food allergies for nearly 20 years.
The Teal Pumpkin Project was inspired by a local awareness activity run by the Food Allergy Community of East Tennessee (FACET) and launched as a national campaign by the Food Allergy Research and Education (FARE) in 2014. Last year, households from all 50 states and 14 countries participated. This worldwide movement is creating a safer, happier Halloween for all trick-or-treaters.
Food allergies are a life-altering and potentially life-threatening disease, and a growing public health issue. According to a study released in 2013 by the Centers for Disease Control and Prevention, food allergies among children increased approximately 50% between 1997 and 2011. This potentially deadly disease affects 1 in every 13 children (under 18 years of age) in the U.S. That's roughly two in every classroom. For these children, even a tiny amount of their allergen has the potential to cause a severe reaction.
Non-food treats provide a safe, fun alternative for children with food allergies and other conditions for which candy may present a problem. All kids love non-food treats like glow sticks or small toys. There are children who have various conditions that can particularly benefit from non-food treats, including: food allergies, food intolerances, Celiac disease, diabetes, children with feeding tubes and any child on a special diet.
Can you still pass out candy? Sure, just do it safely! Households can simply have a separate bowl full of pencils, stickers, tattoos, spider rings, stencils and crayons to hand out to kids.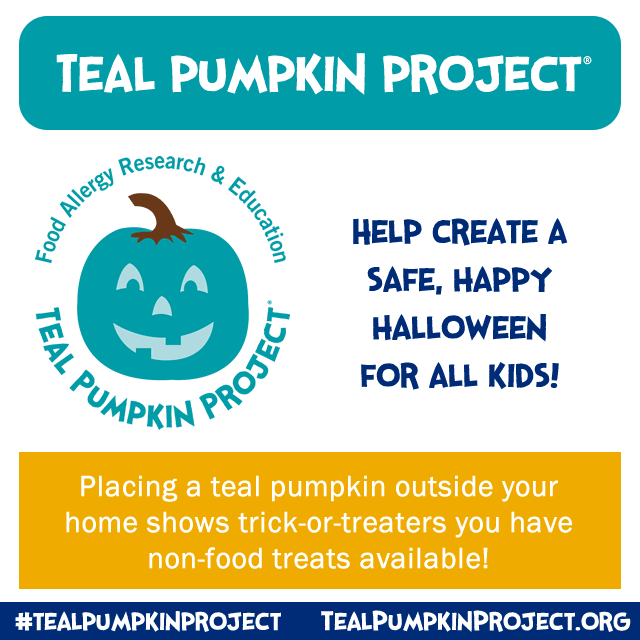 Children with food allergies want to go out to trick-or-treat just like their friends, classmates and family. They have come to understand that a lot of their fun will come from dressing up in a costume. Join the Teal Pumpkin Project and help it become a tradition for years to come so children will know that when they knock on someone's door that has a teal pumpkin, they'll have a treat they can fully enjoy.
Download these great resources to show trick-or-treaters that you support the Teal Pumpkin Project:
Non-Food Treats Available Here poster
Teal Pumpkin Project pumpkin stencils