Therapy: An Integral Piece of Pain Management
Chronic pain may be a result of habits, postures, or movements that are inefficient or mechanically incorrect. If you are experiencing chronic pain, therapy should be an integral part of your pain management plan to provide education on what to do, what not to do, and how to do it correctly.
Rehab services that may help chronic pain include:
Physical therapy - using strengthening and flexibility exercises can help improve movement, reducing the stress and strain on your body, and decreasing your pain.
Occupational therapy - a postural assessment and body mechanics instruction will help you adjust your daily movements to reduce your pain and increase your ability to function.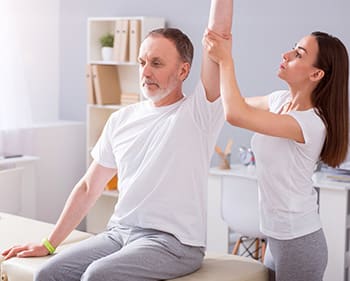 How do you begin a rehab program?
Talk with your primary care provider. A primary care provider is crucial when creating a pain management plan that will produce results because that provider will be able to closely monitor what works and what doesn't. If you don't have a primary care provider, talk with our clinic team in either Prairie du Chien or Fennimore and they can help find a provider that is a good fit for you.
If physical or occupational therapy is included in the pain management plan you and your provider create, see a reputable and experienced therapist. Together, you will create a plan of care to determine where you want to be and how to get there. Both physical and occupational therapy are available at the Medical Center in Prairie du Chien. Our patients have wonderful things to say about our rehab team - the entire team is definitely reputable and experienced.
This may be the most important aspect of a pain management plan - follow through. Make sure to move forward with your treatment plan and take the steps necessary to accomplish your goals. If you don't follow through with the plan, you can't expect it to work.
---
Tom Wilkes is the Director of Rehabilitation Services at Crossing Rivers Health in Prairie du Chien. Crossing Rivers Health Rehabilitation Department offers many services to improve your quality of life. Each patient takes an active role in making decisions about their care. Patients receive specialized services to help them achieve goals and gain maximum independence.